A NEW CHAPTER IN MY LIFE!
So, you wonder about the beautiful woman on my HELLO page? Well, her name is Dot Murphy. Its quite a story and the first really BIG news to hit my webpage in many years….. Curious? Well, it all started in 2008 when I secretly hit a certain webpage…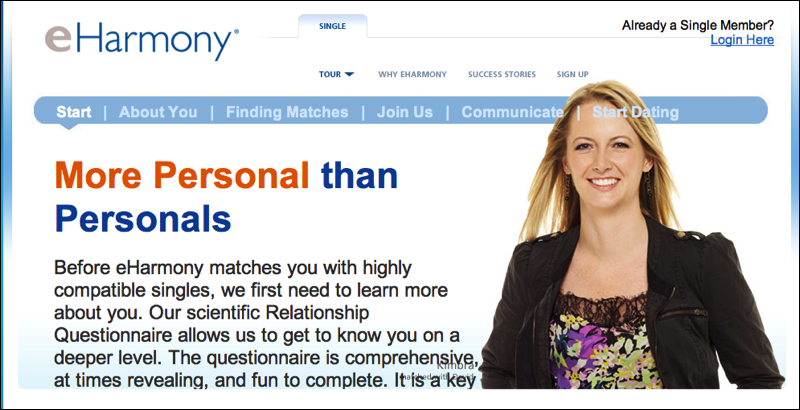 WHAT WAS I THINKING?
I was a 78 year old widower, but I felt perfectly fulfilled in my life with my family, my church, my hobbies and my comfortable home… But I was enamored of the Internet and curiosity can be a terrible compulsion. eHarmony was all the buzz on the web and in popular news. I wasn't "needy" for another serious relationship, but…MAYBE?…just dine and go to the movies with an entirely new acquaintance?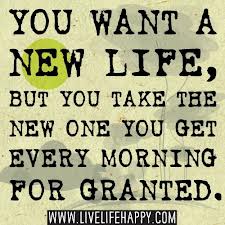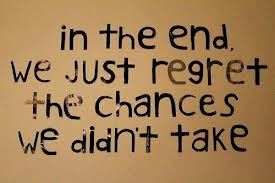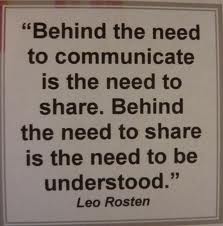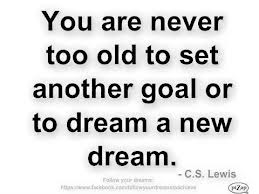 GETTING STARTED
I signed up for 3 months… Next you complete their profile questionnaire which gives the eHarmony computer data to match you with someone of the opposite gender. At first, only part of your profile is revealed to others and you communicate with them only through eHarmony's website.

SETTING THE PARAMETERS
You can set certain boundaries for who will see your profile. I chose:
Women over 60 years of age
Women who live within 25 miles of my home

GETTING "HITS"
Now each morning, via the eHarmony webpage, I was seeing 6 to 12 women responding to my profile—very exciting! These first "hits" reveal only limited information, including first name and age, but no last name or address. Now it was up to me to respond to any that looked interesting.
ADJUSTING MY PARAMETERS
Even though my age (78) was revealed, I was surprised that almost all my hits were from women in their low 60's. So, I changed to:
Women over 70 years of age
Women who live within 60 miles of my home

GETTING DOWN TO BUSINESS
Now I was all set to study the profiles of my new hits each morning, most with small thumbnail pictures! When both parties agree, eHarmony guides you to mutually reveal more personal information, including "LIKES" and "DISLIKES."

A QUICK CONNECTION
I responded to several hits, but found myself talking mostly to a 72-year old widow who lived in Sherman, Texas. Sherman is about 50 miles away and my last parameter adjustments had "let her in" to see my profile! One day she said, "Hey, do you want to get off of eHarmony and talk directly on e-mail? I only signed up for the FREE 30-DAY TRIAL!" We exchanged e-mail addresses and jumped off of eHarmony….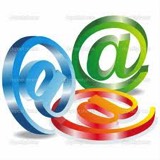 SWITCHING TO E-MAIL
Her name was Dot Murphy and her thumbnail picture was very attractive. She was a Christian. Like me, she had been widowed for several years; she had three grown children. She had lived all her life in Sherman. She was fun to "talk" to! Again like me, she wasn't looking for "romance," but has lots of e-mail friends and was just curious about eHarmony.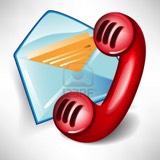 FIRST PHONE CALL
Dot and I became really good "e-mail buddies" and I began saving all of our e-mail exchanges… Five months later we had our first phone call:
Ray: "We just hung up and I'm still smiling! ;-) You are a dear, thanks for calling."
Dot: "I've been told I am funny; I do like to laugh...lol."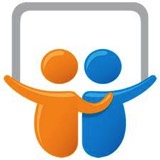 FIRST MEETING—NERVES!
Within a month we decided to meet face to face. We chose a restaurant in McKinney, Texas, about half way between our two cities. It didn't go well for either of us... For some reason, without our computer screens, we just weren't at ease with one another. Maybe we faked it, but at least the ice was broken...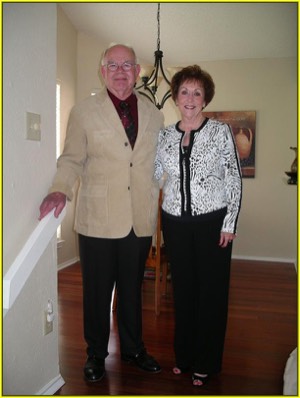 FIRST DATE (APRIL 2009)
Soon after our first meeting, through our local PBS station KERA, I bought tickets to the "Celtic Women" concert at the Nokia Theatre, keeping them a secret while getting up courage to ask Dot for a "date." I was about to discover that she was ready for just about anything, if asked!

At the last minutes I discovered that a brake light was out on my BMW, and I didn't have time to get it fixed. Well, you don't want to get stopped by the police on a first date, right? So, I rented a Toyota Hybrid (Prius); I had never driven one before...

The show was on a Saturday. Dot drove to her friend Jerri's house near my home and I picked her up there for the drive to Nokia in Arlington, Texas. (
Jerri took this picture of us before we left for the theatre.)
I thought we were going to be terribly early, but Dot was game and we found our timing was just about right to park and hike to the line waiting to go in. Our seats were great, thanks to KERA, but Dot was pleased and I took full credit. The show was amazing
—
very high energy and almost non-stop. We both enjoyed it—and each other.

When we entered the theatre the weather was perfect, clear and sunny, and we never dreamed it would come a storm and didn't bring any rain gear with us. When we came out of the theater, into a very dark parking lot, it had rained hard and everything was wet, although the rain had almost stopped. We began searching for our car; I was
sure
I remembered just where it was—but I was wrong. We then tried Dot's direction and thought we had found it. I clicked my key fob to unlock it—just as a guy standing behind us clicked his key, and it opened—but I thought I had opened it and started to get in! Embarrassing, but Dot laughed at the whole thing and we soon found our rented Prius. It took a long time to get out of the parking lot but I got Dot back to Jerri's about midnight. It was another small step in our young relationship, but when I got home I was PUMPED!

This was the first of numerous "dates" in the months that followed, rounding out a full year's friendship that began on eHarmony. The question that was unavoidable now was, "Where is all of this going?"
I just shut my eyes to that question and enjoyed every opportunity to be with Dot, occasionally driving to Sherman to eat and take in a movie. She was wrestling with the same question, and we did talk about it; both of us agreed we were fortunate to have found one another and that the reason was was more than coincidence or eHarmony—the Lord had a hand in getting us together, and we were in His hands...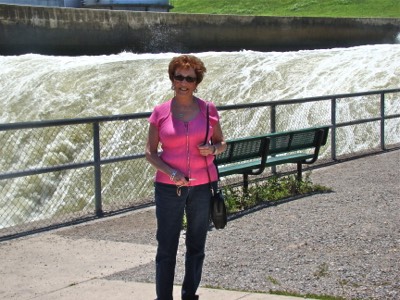 FIRST VISIT TO DOT'S HOMETOWN
A month later I drove up to Sherman and Dot took me on a tour of her hometown… She drove my car and we toured downtown and the college; after her children were in school she had worked at a bank and Austin College for many years… As we continued to drive, I urgently needed to go to the bathroom. We were on Highway 75 north and Dot kept trying to find a restroom; we ended up at the Oklahoma Visitors Center in Oklahoma! Since we were almost to Durant, OK anyway, Dot said, "Do you want to drive up to the casino?" and we did. Then Dot drove us around Lake Texoma the rest of the afternoon... This was fun!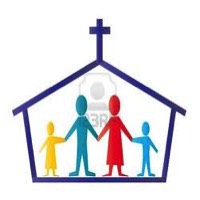 CHURCH & FAMILY
I'm not sure just when we began to share our friendship with our families, but I guess the cat was out of the bag as soon as we began to date. "We're just friends," was our story, and we stuck to it. I was thrilled to take my beautiful friend to church, and that certainly got the news spread around! We also visited Dot's church in Sherman a few weeks later...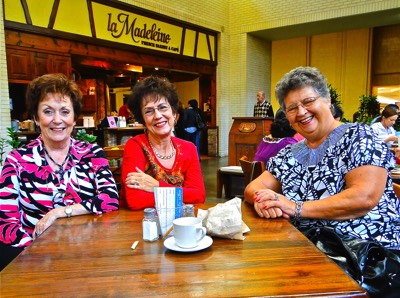 "MEET ME AT THE FOUNTAIN"
(OCTOBER 2009)
Dot and her friends come to Dallas frequently and she always let me know so we could maybe meet. This time she was bringing her two best friends. I was anxious to meet them and flattered that she invited me. Dot said, "We are going to North Park Mall—where shall we meet?" I said, "I'll meet you at the fountain," and did! Me, dining with three beautiful women—I couldn't believe it!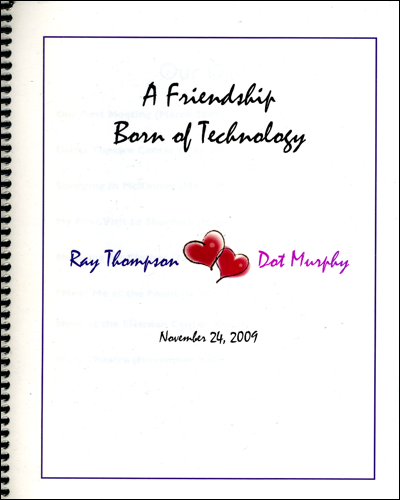 "A FRIENDSHIP BORN OF TECHNOLOGY"
(NOVEMBER 2009)
My professional life was in the field of writing, and I had been working for months to present Dot a written record of our friendship, on the first anniversary of our meeting in McKinney. I saved and edited all of our e-mail exchanges between Nov. 2008 and Nov. 2009 and presented them to her in this 76-page spiral bound volume. It includes pictures and mementos from our dates in the first year of our friendship. I think she was impressed, and I was thrilled when she placed it on her living room table to share with family and friends...
In August of 2010, Dot helped me pick out a new car—a Nisan Altima 6 Cylinder. WHOOM! WHOOM! The backup camera sold me on the car…

The following month we took our first trip together—thru western Arkansas to Branson Missouri, and we had a blast. Dot loves to drive and is a good driver, but is inclined to follow too closely—IMHO! Dot stated very frankly, "and you like to drive too fast!" However, we survived that little difference of opinion and discovered that we both love to take photographs. I told her, "I turn around or backup to get a good picture." She agreed and we do it now on every trip!

This was the first of numerous driving trips together and we found the solitude of driving was some of our best time together...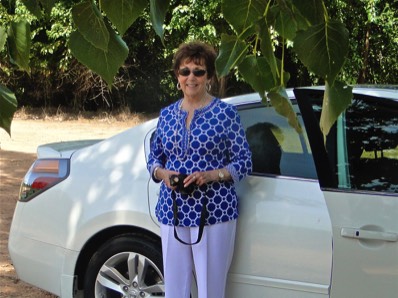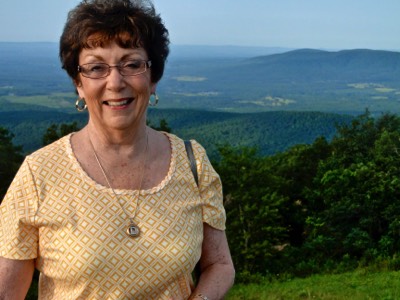 CHRISTMAS AT DOT'S (DECEMBER 2009)
Dot's love and concern for her children was evident from the start and I knew my relationship with them would be important to her. I had met some of them earlier in the year, but I was thrilled (and a little nervous) at Dot's invitation to come to their "family Christmas" at Dot's home—a Murphy family tradition. I really enjoyed the day and hoped I made the proper impression as "Mom's boyfriend." I took pictures and fixed this montage to share with everyone.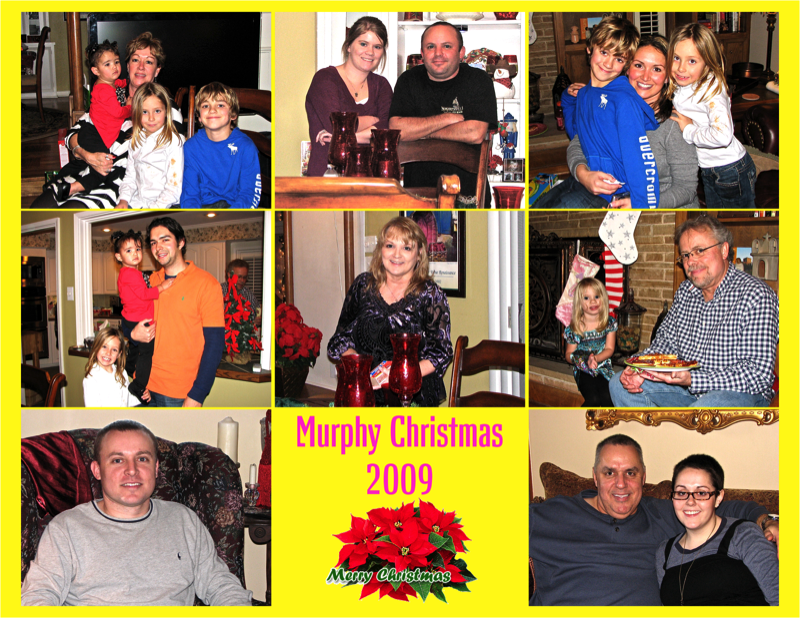 SHOPPING AND ENTERTAINMENT
I was anxious to treat my girl friend to the best that our local entertainment venues had to offer. I splurged on season tickets for the perennial Dallas Summer Musicals as well as performances at the Winspear Opera House and Dallas Theatre Center, just opening in their stunning new buildings in Dallas' downtown arts district. Dot liked the musicals best and we've since bought tickets each year. Dressing up and going out, I was reminded from a previous life what a "big deal" this is for the ladies—hair appointments and all!

I've always been a good shopper, and we almost never missed visiting North Park Mall when Dot was in Dallas. She was always looking for a good price, but I enjoyed buying special things for her that she would not have bought for herself. Of course, in the deal, I got much needed help with my own wardrobe!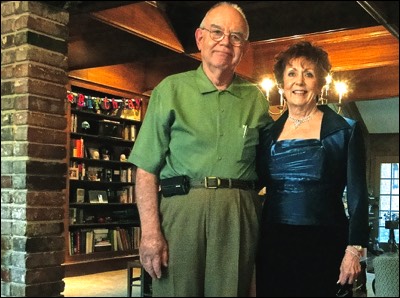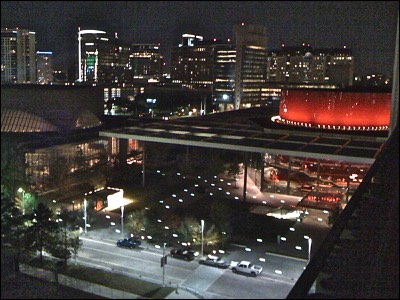 TEXAS STATE FAIR (OCTOBER 2010)
In the fall we decided to go to the Texas State Fair, which neither of us had attended in years. To be adventurous, we decided to ride the Dallas Dart Train from Richardson to the fair grounds and back; we first waited on the wrong side of the tracks, but someone told us. We made it fine, including attending the matinee performance of the Dallas Summer Musicals, but by the time we got home we were pooped!
http://raymack.phanfare.com/4865123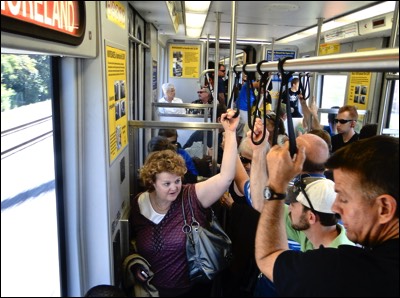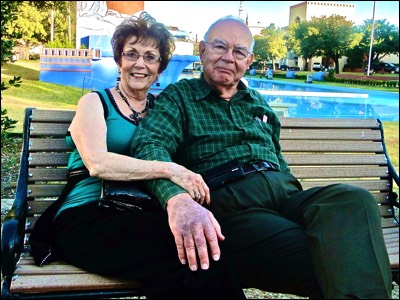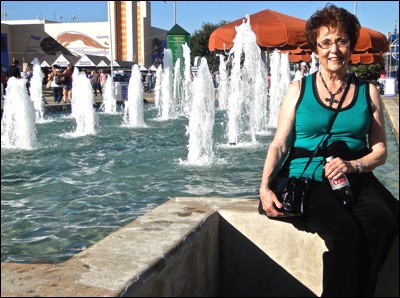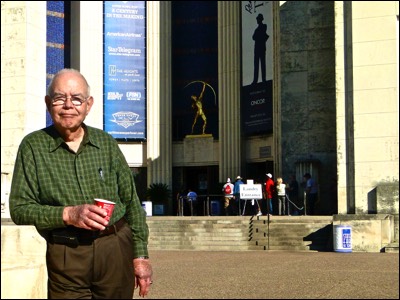 THE BIG TRIP (MARCH 2011)
Our enjoyment of traveling together had been whetted the previous year and we were ready for more! This was our longest trip to date and it was as near perfect as anyone could hope for… We drove from Sherman to Amarillo, Texas the first night, then to Santa Fe, New Mexico for two nights. The last leg took us around the scenic loop to Taos, NM and then home. We took our time and both of us took lots of pictures. I nearly fell from a bridge over the Pecos River and Dot's comment was, "Are you alright sweetheart? You know, if you had fallen in I wouldn't have had the car keys!" Thanks a lot sweetheart! (She still got a special ring with a beautiful green stone in Taos…!) By now, holding hands while we were driving was a small intimacy we allowed ourselves...
Amarillo to Santa Fe

http://raymack.phanfare.com/5069160
Santa Fe to Taos
http://raymack.phanfare.com/5069170
Taos to Cimmaron to Home!

http://raymack.phanfare.com/5069185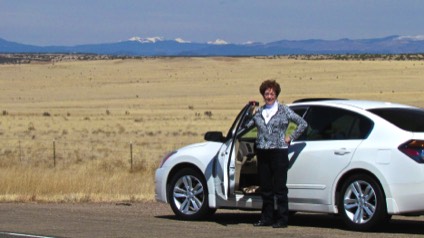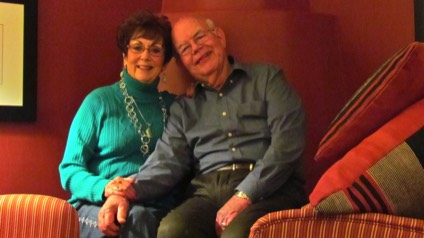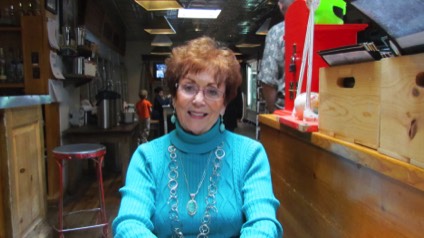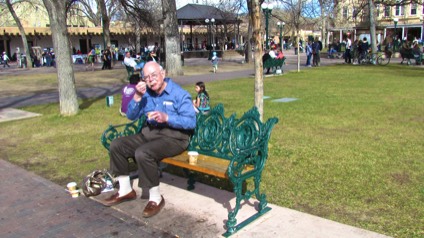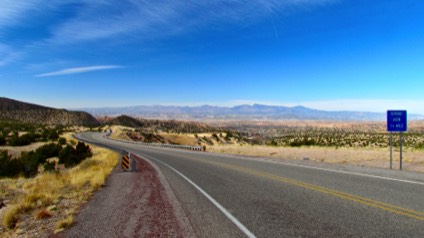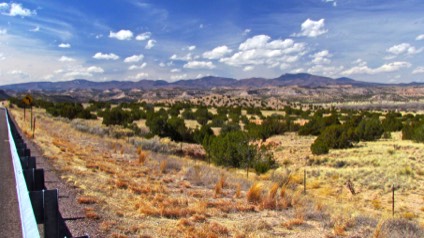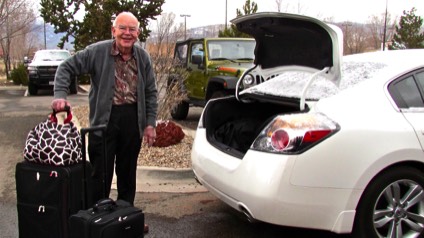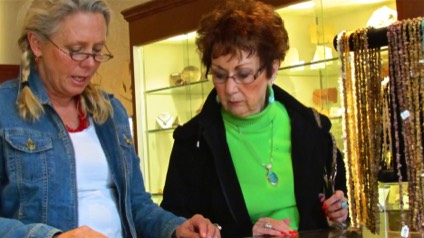 We took the high scenic road across "Taos Country." The wind blew fiercely, but we good multiple scenic shots which I made into this video. We felt the Spirit of God in the solitude of our drive…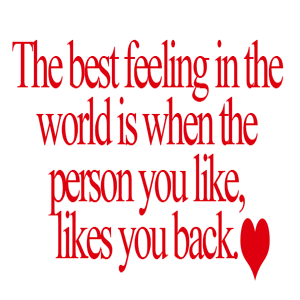 THE SAME QUESTION…WHERE ARE WE GOING?
We both wanted to know, but it was hard to talk about it. The one thing we had talked about and agreed on was that the Lord had a hand in our relationship. I had very strong feelings for Dot but doubts about her feeling the same
—and I was too timid to ask.
"'We're just friends,' is a lot of fun, Ray—don't screw it up!"
Finally, one day sitting in our "talking place," I screwed up my courage and asked, "Is it OK if I say I love you?"
She said yes!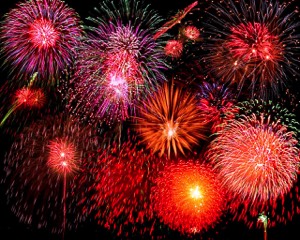 OUR FIRST KISS...
I don't remember exactly
when
we kissed for the first time, but I do remember
how
and
where
…It was in our "talking place." I asked, "May I kiss you?" Dot smiled a "yes," and I leaned in and kissed her—like she might break. Then, she stood up and said, "
I want a great big hug!
" I stood and were in each other's arms for a long and memorable kiss and embrace…
CELEBRATING THE 3RD YEAR OF OUR FRIENDSHIP AT THE BROADMOOR
(NOVEMBER 2011)

http://raymack.phanfare.com/5359421
We drove from Sherman to Dalhart, Texas the first night—about half-way to Colorado Springs and the Broadmoor. Dalhart is a small town and I jokingly threatened Dot with a stay at Motel 6—she said, "That is not funny!" The next day we included the Royal Gorge in our route—we nearly blew away on the bridge and nearly ran out of gas! I had purchased a budget-priced, pre-holiday, 3-day stay at the Broadmoor but it turned out to be truly excellent. We were feeling very romantic, and it was a wonderful escape to celebrate the 3rd year of our friendship. We drove home holding hands—
and making plans!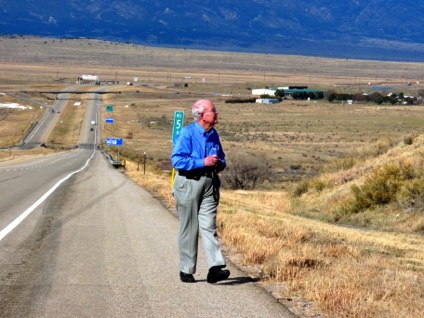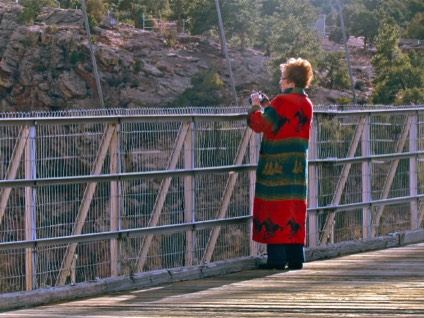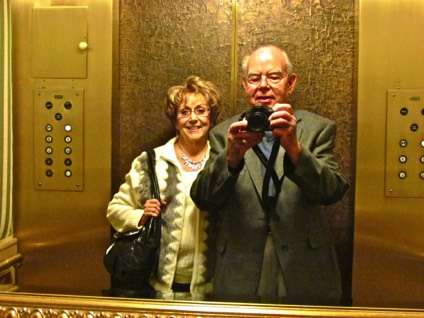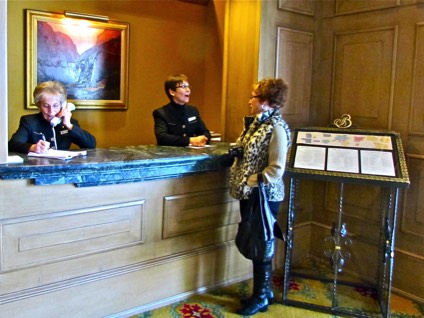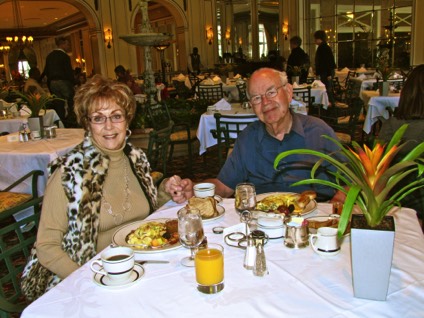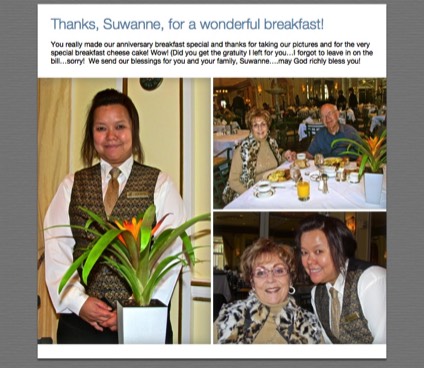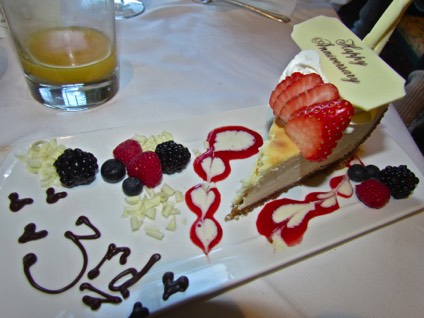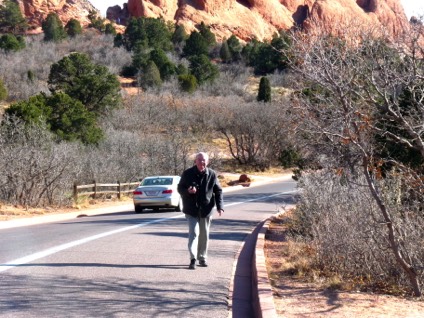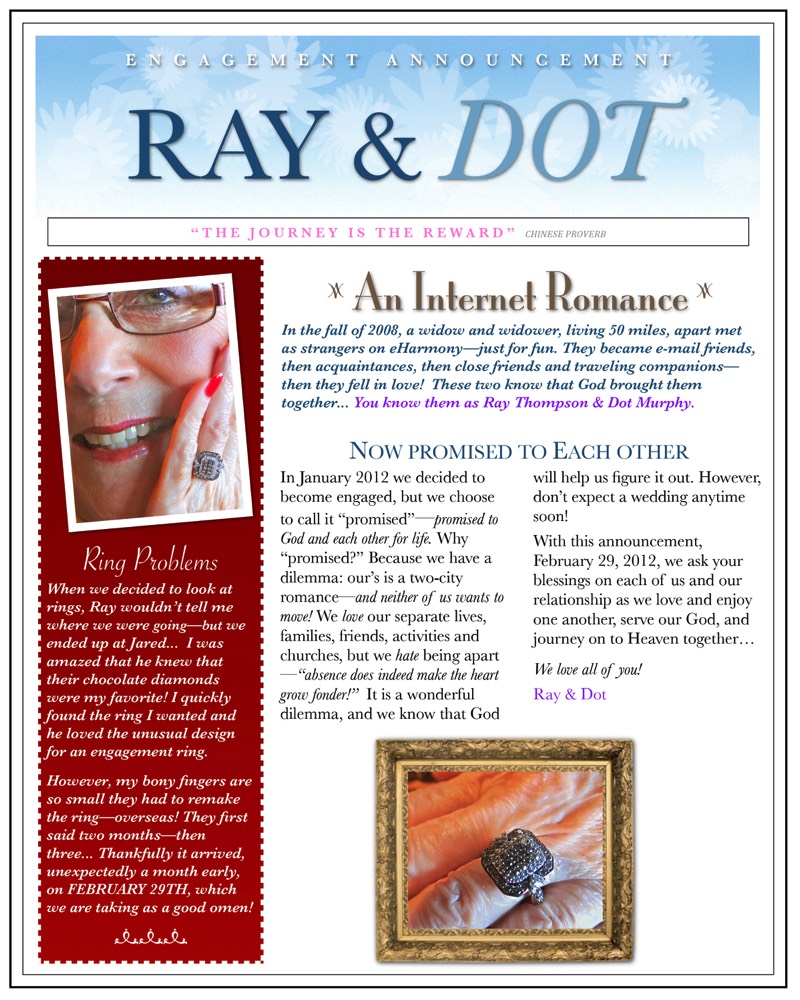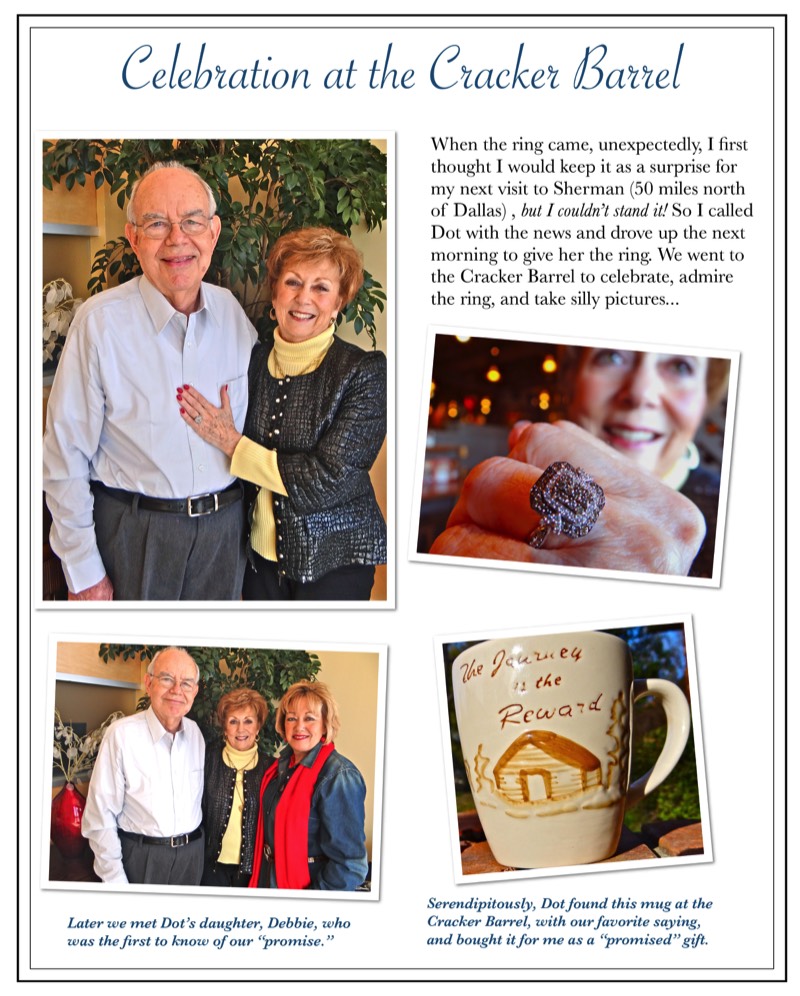 R@y Loves DoT!
I am so very blessed that you
Want to be my wife, and
I hope you understand
The love that is on this page.
For I want the world to know
The way you have changed my life!

Wedding Day - June 18th, 2014


We have loved each other almost from the start, but it took four years for us to pledge our love with an engagement, and two more for a wedding.

We talked about "where" for the wedding for a long time and always came back to the same place—the beautiful Dallas Arboretum.

Deciding on "who" to invite was
not
easy. We had Dot's three precious children to consider as well as Ray's family. However, we wanted a brief and simple ceremony without the complications of notifying family and friends and asking them make plans for dress and travel. It was a very emotional decision for Dot, but after four years we decided!
None of you are invited, and this was as much for your sake as ours!
Now wasn't that easy? :-)
Seriously, we treasure your love and good wishes and we plan to gather with all of you very soon to celebrate our marriage to the fullest.

Of course we did need some witnesses and a minister—and a photographer! H-m-m.. who could we ask?

Ray and
Graham Teschke
are long-time friends and fellow Mac and photography fans. Graham's close friend,
Diane Killion
, often joins the three of us when we are "on the town" in Dallas for a movie and eats. The four of us have become close friends, and they seemed the perfect answer to our wedding plans and
Graham could double as photographer!
(We sprung out plans on them only three days before the wedding—a real "test of friendship," but they came through for us and we are so thankful!)

The last piece of the puzzle was the minister, but that was easy—our young minister from Skillman Church of Christ in Dallas, where Dot and I have attended since very early in our relationship; Both Dot and I love and admire him. His name is
Joel-Sanchez Cornielle
, and Ray actually asked him to perform the ceremony as soon as we were engaged.

Our plans came together rather quickly, but thanks to wonderful friends and the Dallas Arboretum
(a million thanks, Susan!)
, we were wed on a warm Spring morning in June. At our request, Joel prepared a special ceremony that was beautiful and personal.

So, we DID IT, and are so happy to share our nuptials with all of you! Enjoy some of our pictures… Please keep us in your prayers.


R@y and Dot

P.S.
Well... there was one small hitch that gives us a funny story to tell you—someday!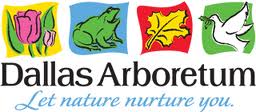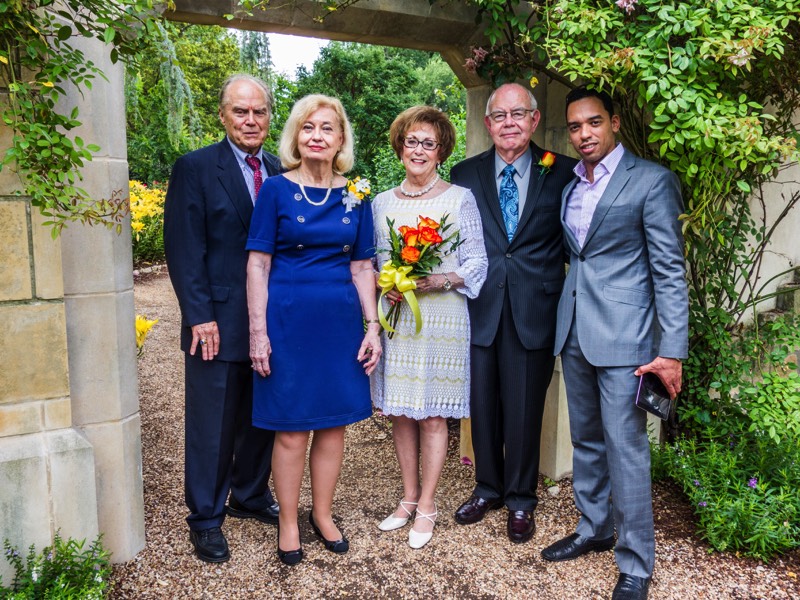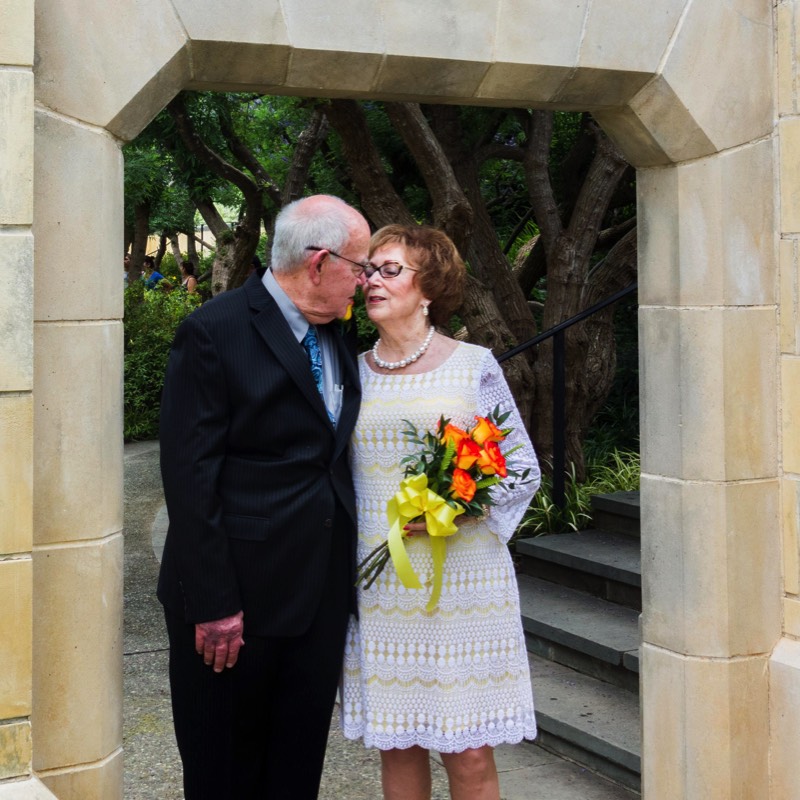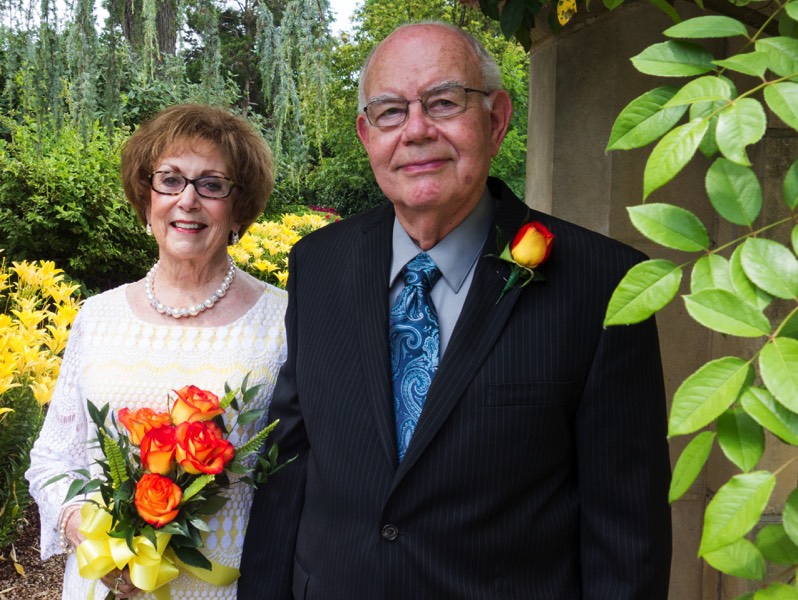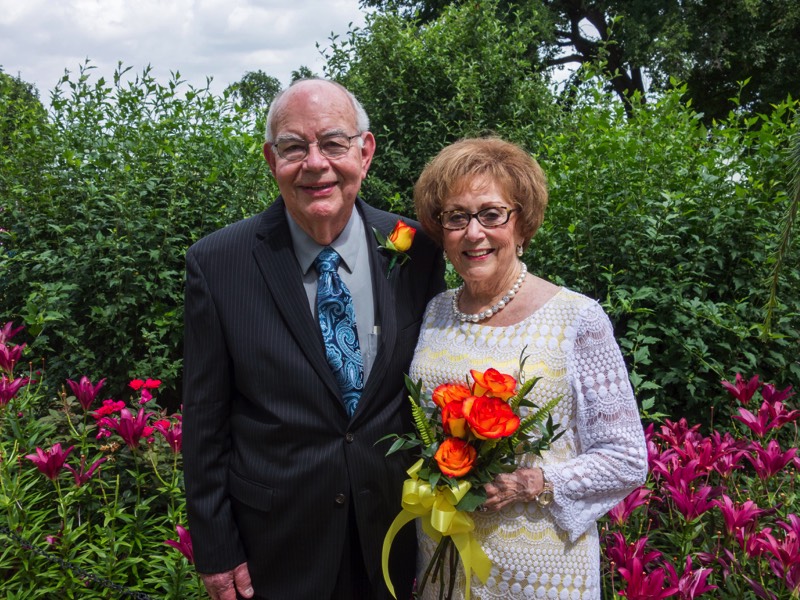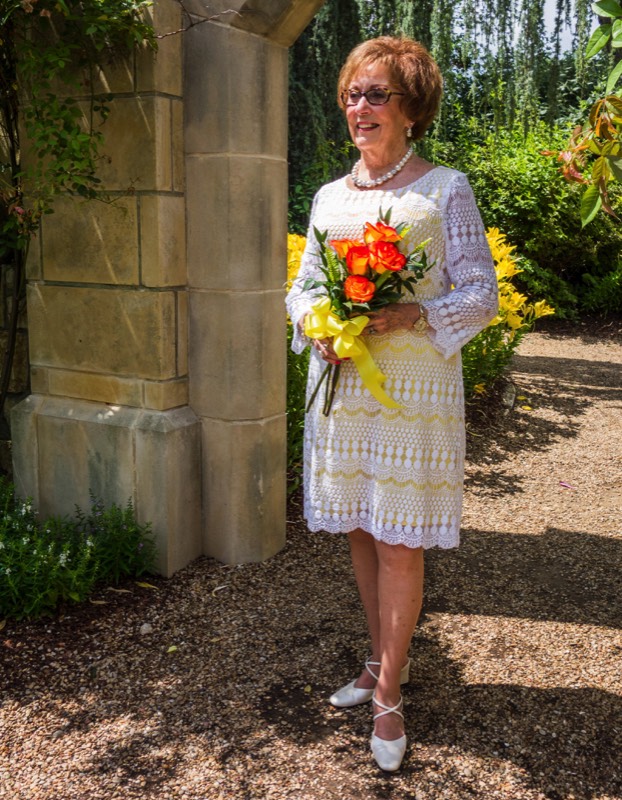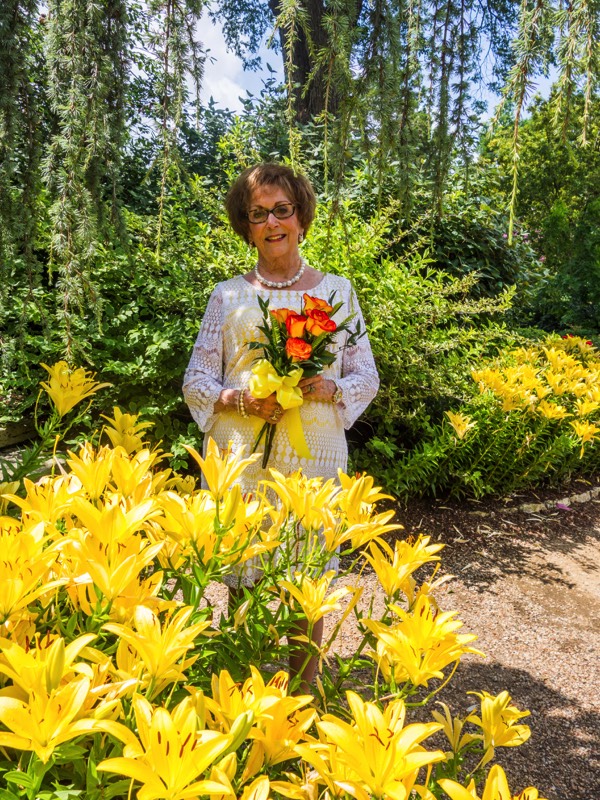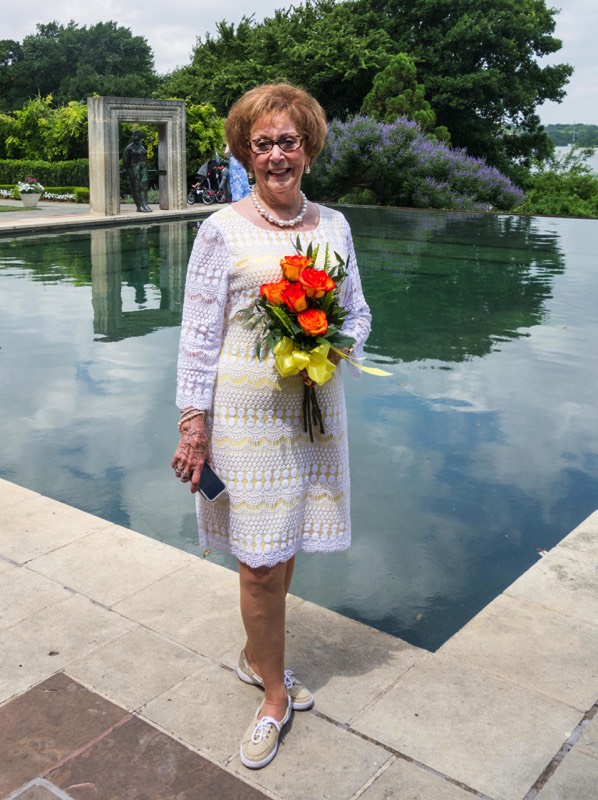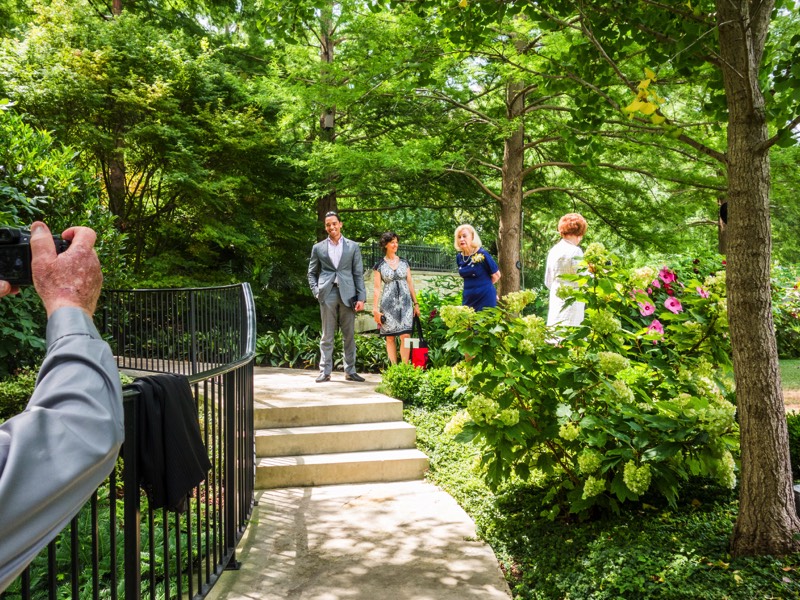 And they lived happily ever after!