The Birth of Radio Station KACC
Abilene Christian College - Abilene Texas
by Ray Mack Thompson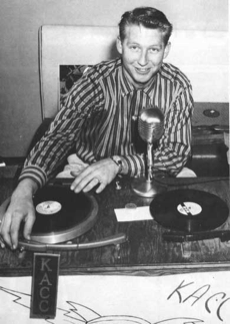 KACC Disk Jockey Jack Stoval, circa 1950
Radio Station KACC was born on the campus of Abilene Christian College (now Abilene Christian University: http://www.acu.edu) in the late 40's. The audio feed from a single microphone went only as far as two speakers in the "studio," a few chairs setting on the other side of a makeshift broadcast booth. The broadcast console consisted of two mismatched turntables mounted on a piece of plywood, with a single microphone for the broadcaster—but, there was no radio signal! From this humble beginning, KACC-AM (later KACU-FM) evolved into one of the leading radio/TV stations in West Texas. My interest in this early history is that, I was there! As we near the 50th Anniversary of KACC-AM, I want to reconstruct, as best I can recall, how it all began...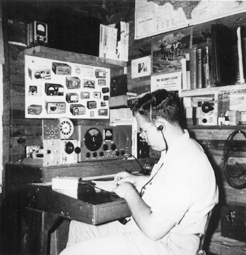 Radio Station W5OUS, Barracks 12, 1948

I was a student at ACC between 1948-51, graduating with a BS degree in Agriculture and a minor in Bible. One of my lifelong friends from those years is Dr. Maurice "Doc" Callan; Doc was a Pre-Med. student. Doc and I were, as far as we know, the first licensed amateur radio operators ("hams") to operate their stations on the campus. I set up my station in my dorm room (in an old army barracks), and was heard occasionally on nearly every radio in the building! Doc had his station (W5OBM) in Barracks 1, nearer the campus. We both joined the Abilene Ham Club, which met monthly at the Naval Reserve Armory. This group of mostly older hams really took Doc and I under their wings, as good hams are supposed to do. More about them, later...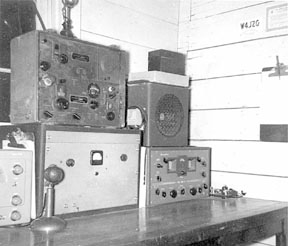 W5OUS/W5OBM, Joint Station in the Aggie Poultry Lab
Eventually Doc and I decided we wanted to put our stations together, and an opportunity came from a strange source. As an Aggie, I heard that a new poultry lab (barn) had just been finished on campus, but that it would not be used until the next semester. So, I asked our Ag poultry professor, T.W. Colby, if we could put our combined station in the "hen house" until it was needed for classes. "T. W" allowed as how, "I guess so; I'm afraid someone is going to burn it down before we get to use it."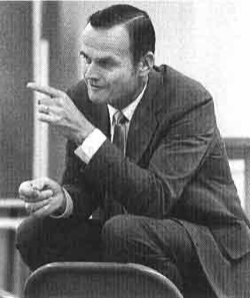 Dr. Lowell Perry
Dr. Lowell Perry joined the ACC faculty in 1948, and brought with him the dream of a campus radio station. Dr. Perry wanted the station as a laboratory for the new "radio journalism" curriculum he introduced and taught, and to provide a source for news and entertainment for the students on campus.
Dr. John C. Stevens, No Ordinary University, Abilene Christian University Press – 1998, p. 423.
The courses included writing, producing, and performing radio programs. Radio was in its heyday, and both business and mission-minded students were encouraged to take these courses. Brother Perry was to become a leading advocate of radio broadcasting as a medium for mission work. The cost of a modern broadcast station was not in his budget for a year or two, so while waiting and working for financing, Dr. Perry obtained space in the basement of McKenzie Hall (a girl's dorm) as a temporary lab for students enrolled in broadcast journalism. Here, he and his students pieced together what passed for a "broadcast studio"—but there was yet no radio signal from the studio...


Doc and I had never met Dr. Perry, but one day in 1950 he asked us to come to his office. After we all introduced ourselves, he told us he had heard about our ham station down in the "hen house." He asked, "Do you know anything about "carrier current" broadcasting?" We really didn't know much, but we had read enough of the history of ham radio to know that after the amateur frequencies were shut down at the start of World War II, older hams who did not go off to war
(Hams of draft age provided the military a cadre of trained radio operators, vital in the early days of the war)
, kept the hobby alive by communicating with very low-power signals carried over neighborhood power lines, instead of being radiated from an antenna.

Dr. Perry then explained the reason for his question. In visiting colleges along the east coast teaching radio journalism, he found that many were using carrier-current transmitters for their campus radio stations. He also discovered that local hams built many of these stations. The cost was very low, and the limited range of such simple stations was offset by the fact that no license was required from the Federal Communications Commission — another big hurdle Perry knew he must get over. Doc and I were thrilled to be asked to help, and although our knowledge was limited, we knew where to go for help—
the Abilene Ham Club!
A number of the old timers in the club had built and operated carrier-current stations during the war. Within a few days they provided us with a schematic, some of the parts, and lots of advice. One item that was hard to find was a crystal for a frequency in the AM broadcast band. Hams used crystals for their own frequencies of course, but not in the middle of the broadcast band!

Someone came up with one we could use (salvaged from a broadcast transmitter), but it was not tuned to the empty spot on the AM dial where we had chosen to put our signal. However, they showed us that, by grinding down the thickness of the crystal, it is possible (by trial and error) to change the frequency of a crystal—
problem solved!


Another problem arose — we had no way of measuring how strong the signal was from our "ham made" transmitter. This was worrisome, because to comply with FCC regulations for an unlicensed station, there were specific signal strengths that could not be exceeded. We didn't want to get ACC in hot water with the US Government, but we didn't have the equipment to make the measurements. We finally screwed up our courage and went to the local FCC office. Explaining our project for the school, we asked them to come out and measure our signal! Well, they turned us down flat on that, but with behind the hand remarks said, "We aren't too worried about this!" Another problem solved. We did have a problem from time to time with our signal interfering on the campus or
going too far from the campus!
First, we were sometimes heard during chapel on the P.A. System (operated by Dr. Marcus Mullings) in Sewell Auditorium. We offered to "fix it", but Dr. Mullings would not allow anyone to touch his audio system! Then, as I returned from my home in West Texas one day, I was shocked to discover I could hear KACC on my car radio, as far west as Merkel, Texas when the power lines were very close to the highway! Such was the life of KACC's first engineers!

The First Transmitter for KACC is Born, In the Poultry Barn!
Doc and I built the little carrier-current transmitter down in our poultry-barn ham shack; we
really did
build it ourselves. We tried to use good construction practices that we had learned in building our ham equipment, but the design was purely functional—not for looks; the unit would not be seen in the station. In writing this piece I was fortunate to find one small picture of the transmitter, sitting on our workbench. This year (2003), Doc found the original schematic diagram that he drew so carefully, but the rats have obliterated part of our carefully crafted circuitry!

KACC ON THE AIR — JANUARY 1951!

After the transmitter was completed, we tinkered with it for sometime, getting it connected to the audio feed in the booth, and "loading" the low-powered signal into the power lines inductively, so that it would radiate over the campus. However, at first the signal failed to reach all the dorms; additional wires had to be run to carry the weak signal. KACC-AM finally went on the air Monday evening, January 8, 1951. Dr. John C. Stevens, No Ordinary University, Abilene Christian University Press – 1998, p. 423. Later, as a memento of the first year of operation, Dr. Perry gave the staff commemorative tie tacks—a little microphone with KACC on it that I thought was lost, but located only recently—hidden in a keepsake tray for safe keeping!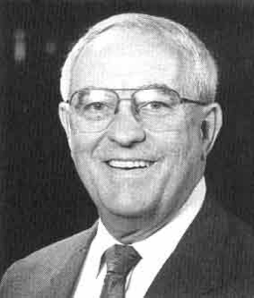 William J. Teague ('52), ACU President, 1981-1991

Bill Teague (yes, that's Dr. Willam J. Teague, the future president of ACU!) was the first Station Manager for KACC. Dr. John C. Stevens, No Ordinary University, Abilene Christian University Press – 1998, p. 387. Doc and I remember going with him to broadcast out-of-town basketball games. A couple of carloads of ACC supporters usually accompanied us. Doc recalls one such trip to Ft. Worth to play Texas Wesleyan in basketball: "Bill let me be the engineer, which got me in free. I carried in our little amplifier and located the telephone line we had rented to send our remote broadcast back to the campus; It had a wire wrapped around it and a number to call. However, I had no idea how to hook it up! There were two bare wires, so I connected them to the output of our portable amplifier; I then called the phone number to see if they were hearing us. The phone guy said, "YES! I'm hearing you TOO well—turn down your amp!" We all learned from experience... Bill called the game from the visitor's stands, hunched over a microphone and our little amplifier—no broadcast booth. The rest of us sat behind him and tried to sound like a large ACC crowd!

As I was completing this story, I corresponded with Bill by e-mail. He recalled, "I didn't know a thing about 'play-by-play' broadcasting, but figured it out by practicing on a wire recorder. For one game there was no printed program; I knew the names of our own players but just made up names for the visiting team. No one seemed to object, which, I guess, didn't say much for the size of our listening audience" Bill also told me that at some point the next year, they found a way to boost the power of KACC.

A couple of other KACC stories come to mind. Doc and I continued to operate our ham station from the new poultry lab until I graduated in June '51. We checked in to several "nets" for colleges on the 40 meters band. One net was devoted to relaying chess moves between players at various colleges; we relayed moves between players at ACC and Texas A&M, and then broadcast them over the air to all the chess fans on campus (moves were sometimes days apart.)This was probably our first "exclusive" for KACC—but, admittedly, the chess club was a pretty small audience! However, our real scoop was broadcasting the results of the Kansas Relays. The campus hams at Kansas State arranged to have the results of each race relayed immediately from the track to the college ham station. We copied the results in Morse code in the poultry barn and then rushed the across the street to KACC, where they were put directly on the air. ACC always had a strong track program, and the news from the Kansas Relays always made the evening news on the commercial AM station, KRBC—but this time we beat them!

By the time KACC went on the air, Doc and I were only months away from graduation, and soon lost contact with the evolution that would sweep broadcasting at ACU forward for the next 50 years. What we accomplished was to push past the "budget problem" of getting the first signal on the air—it was a start! Since that first year, others have planned and dreamed and pushed forward with new initiatives in broadcasting and new resources. Today there is a full curriculum in Journalism and Mass Communications, and a growing group of graduates that have succeeded in the fields of journalism and broadcasting.

Everyone was shocked to hear of the death of Lowell Perry in a plane crash in Puerto Rico in 1977, where he was scouting a site for a mission radio station. I am certain his interest and encouragement made a difference in our lives, and I know many others feel this same debt. These memories of our work with him are a treasure I am happy to share, and it has been especially rewarding to share them with the current staff of KACU and Lowell's wonderful family, Earline and her children.

LR: Lowell Perry, Bill Teague, Maurice Callan, Ray Thompson
Radio Before TV—Remembering How Important It Was in Out Lives

Like most of my generation, I grew up listening to all the popular radio programs—they were a part of our family entertainment nearly every night. When we moved from the city to a farm near Pecos, Texas when I was 8-years old, we didn't have electricity and used coal-oil lamps in the evenings. However, my dad took the radio out of our car, built a plywood box for it in the house, and put up a small wind charger and battery, just so we didn't miss Fibber McGee and Molly, Jack Armstrong, Little Orphan Annie, and Jack Benny! Little did I know that a few years later I would have a small part in starting radio broadcasting on the campus of Abilene Christian College. Even with the advent of TV, radio has continued to have an important place in today's complex set of media communications. Those of us who grew up on radio are not surprised; we understand and appreciate the uniqueness of radio, as explained in this little story...

A child watching television for the first time was asked which he liked better, radio or television. "Radio", he replied, thoughtfully. "Why?" probed his questioner. "Because the pictures are better", replied the child. (Quoted on PBS Television program, "Empire of the Air: The Men who Made Radio")
Celebrating the 50th Anniversary of KACC


I originally wrote this story in 1985, for the "I Remember" column of the ACU alumni news. In 1999 I met Greg Perry (Lowell's son), and then his mother, Earline, who still lived in Abilene. Earline told me that a 50th anniversary event of some kind for KACC was in the planning stages. So, I began to contact others associated with the station and republished my story in 2000, sharing the picture I had found of the first little transmitter. Soon, an invitation arrived...

On October 20th, 2001, "Doc" and I and our wives met on the campus, and spent a wonderful day together. Ray and Avalyn and Maurice and Glynetta attended the morning Homecoming Reception for the Journalism and Mass Communications Department (JMC). This was the first time Doc or I had set foot in the modern facilities of the present day KACU-FM, NPR and PBS for West Texas. We met for the first time many of the current staff of the JMC who were so helpful to me in writing our story, including: John Best, Charlie Marler, and Larry Bradshaw. Larry took Doc and I on a guided tour of the facilities, which was great fun for both of us. In discussing our original carrier-current station, we were surprised to learn from Larry that it continued in operation into the 1960's, as a training aide for JMC students!

Greg Perry tipped us off about a good place to eat, and the four of us dined in unique style at "Lola's" in Buffalo Gap. The climax of the day was the "ACU Radio Announcer Reunion Banquet" celebrated at 7pm in the downtown arts district. Dr. William J. Teague was the master of ceremonies. A historical review of KACC was presented, and Earline Perry was honored. At the end of the program, Maurice and I were presented with commemorative plaques. It was a wonderful day of making new friends and reviewing old memories.

Thank you JMC ! Ray M. Thompson — 11/1/2001
Invitation to ACU Radio Announcer Reunion Banquet, Celebrating 50 Years of Radio On the Campus of ACU!
Memorial Plaque Presented to Doc and Ray at the Reunion Banquet