You Didn't Know I Had a Twin Brother?
THEN... (United States Air Force, Landsberg Air Base - Germany 1953)

I spent many many hours in the photolab darkrooms at LAB, under the tutalidge of our esteemed German photographer, Toni Vangierdegom! I helped organize the "LAB Camera Clique," bought a complete Leica camera system, and really learned a lot about photography. This double exposure was part of a camera club contest. The picture (35mm B&W) was obtained after 20 to 30 exposures in a completely dark room, so we could keep the shutter open!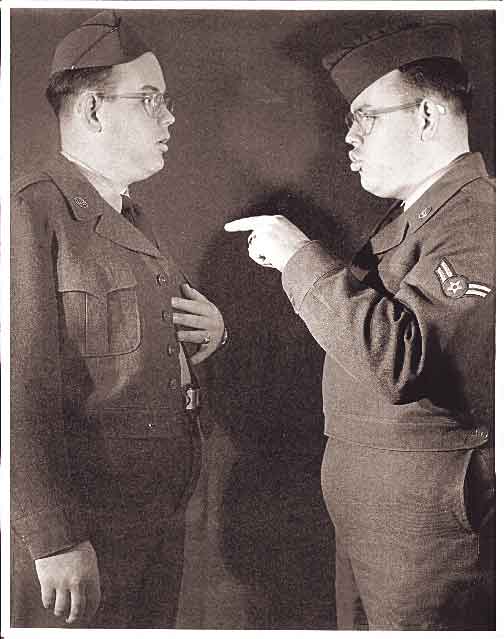 NOW... (Photo Class, 2002)

I'm now into digital photography, and editing my photographs on my computer! I took a course in Photoshop at a local community college (free if you're over 65!) and we were given an assignment to make a "self portrait." Of course, I immediately thought to repeat my camera project from the Photo Lab at LAB. Only this time, the trick was done with my Macintosh computer and Photo Shop! I simply took the two photos of myself and a photograph of the fence, then placed them in Photoshop as "layers." It is then very simple to line things up, as opposed to doing so in the dark as in my first picture!